Sculptor Nana Schowalter returns to the Spring Art Tour June 4-6, 2021
Welcome back Nana Schowalter to her 2nd Spring Art Tour!
Schowalter writes: My artwork includes interior sculpture, garden sculpture, and commission work…. I combine iron, copper, and brass in works inspired by the images of ancient cultures from around the world.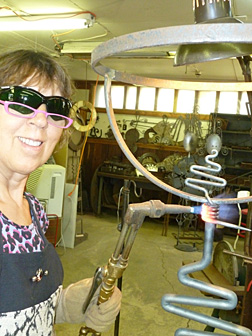 See Nana Schowalter's work
at Chuck Bauer's Henhouse Studio along with several other artists during this year's Spring Art Tour, June 4-6. See where the group Tour stop is located, preview Schowalter's work, get tour information and more at her Spring Art Tour Artist page!