Painter Jane Varda returns for the 2021 Spring Art Tour, June 4-6
Welcome Jane Varda back to the Spring Art Tour in 2021: Her 14th year!
That's right, Varda has been with the Tour since it's inception, in 2006. She writes: In addition to painting landscape outside, I work in my Town of Berry studio from photo-references and sketches, primarily in either oils or pastels. I also like painting still-life, choosing ordinary objects that relate to my daily world, but which transcend convention to become idiosyncratic in paint.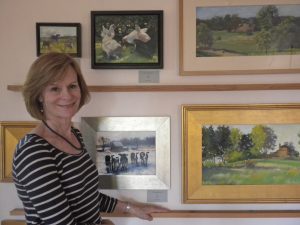 Jane Varda's studio will be open for the Spring Art Tour!
She writes:I will set up a still-life, and be painting in oils and/or pastels throughout the 3-day tour. Find out more information about the artist, her work, and more at her Spring Art Tour Artist page!