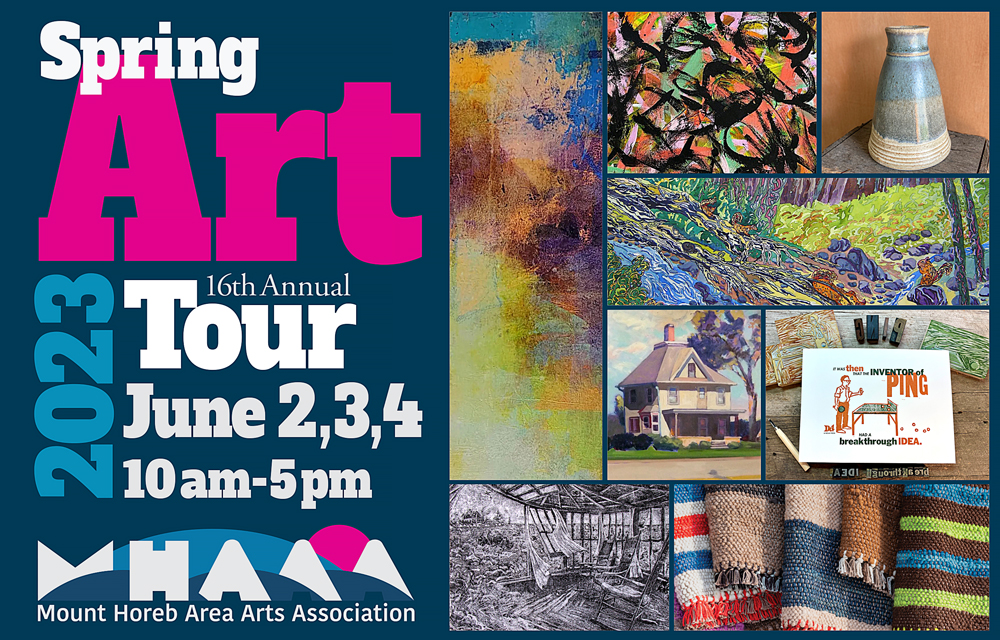 The Spring Art Tour, June 2 – 4 2023, 10 am – 5 pm daily.
The southern Driftless Region's premiere art event. Tour the roads and explore the hills on an excursion to artist dwellings and studio spaces.
Arena, Ashton, Barneveld, Bellville, Black Earth, Blanchardville, Blue Mounds, Cross Plains, Daleyville, Dayton, Hollandale, Mazomanie, Mount Horeb, New Glarus, Paoli, Prairie du Sac, Ridgeway, Sauk City, Verona, and West Middleton.
Spring Art Tour 2023 Participating Artists
Andrew Linderman
Bob Bergman
Brenda Kraemer
Chad Grob
Christy Nesja
Chuck Bauer
David Timberlake
Dominique Taquet
Heidi Clayton
Ivy Klarer
Jane Nass
Jessica Curning-Kuenzi
John Pahlas
Josh Crook
Julie Sutter-Blair
Julie Raasch
Kari Morrison
Luci Shirek
Luke Proctor
Nana Schowalter
Pamela Ruschman
Patty Klarer
Rick Ross
Sarah Aslakson
Susan Mendenhall
Vicki France
Annually since 2007, we have held this Mount Horeb area open studios tour. The family-friendly, free event combines the work of professional artists against the backdrop of the Driftless Region of western Dane County.