June 4-6, 2021 – Daily 10-5 – Mt Horeb, New Glarus, Blanchardville, Barneveld, Black Earth, Mazomanie
1st weekend in June,
annually since 2007, we have held this Mount Horeb area open studios tour. The family-friendly, FREE event combines the work of professional artists against the backdrop of the Driftless Region of western Dane County.
New for 2021: This event might be partially or fully virtual depending on Covid regulations and safety at the time of the event. Please check back to our Spring Art Tour Page for the most up-to-date info we have. Thank you!
Tour the rarely seen Open Art Studios of Mount Horeb and surrounding areas
Watch these inspiring artists create wheel-thrown pottery, jewelry, oils & watercolors, sculpture, and much more
Artist's studios are located within a radius of about 20 miles of the Mount Horeb area. The boundary extends to Sauk City/Prairie du Sac, Ridgeway, New Glarus, Blanchardville, Belleville, West Middleton, Paoli, and areas in between – as well as the original areas of Verona, Cross Plains, Black Earth, Blue Mounds, and Mazomanie.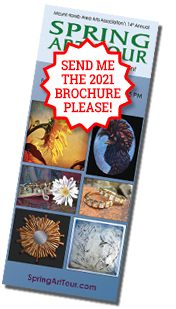 (application available in Fall 2021)
Applying for the Spring Art Tour
 We are always looking for new quality artists to include in this popular event. Please read the criteria below carefully to see if you qualify to apply. Applications become available online (or by email request) annually early in August. Deadline to apply is October 31st.
There is a Selection Committee comprised of long-time participating artists who review applications, artworks, and resumes. Selection takes place in mid November and applicants are informed of their decision soon thereafter.
APPLICATION REQUIREMENTS
Artist must be a working professional artist.
Artists who live/show artwork within a radius of about 20 miles of the Mount Horeb area are invited to apply.
Artist must have email address and check it regularly.
Artist must be willing to open their studio to the general public. If this is not possible, then an acceptable alternate exhibition/demonstration location must be provided – or chosen from the alternate Exhibition Spaces List (see application). Artist may also choose to share studio/exhibit space as a guest artist with another tour artist.
Artist must provide image samples of all media which he/she intends to display.
Membership is required of all Spring Art Tour applicants. Therefore, a Spring Art Tour application fee of $130 must be accompanied by an additional fee of $20 for MHAAA membership. The MHAAA meets quarterly.
PARTICIPATION REQUIREMENTS
Artist must be at his/her studio or exhibition space throughout the Tour weekend (Friday through Sunday on the first weekend in June). Departure for anything other than brief meals, bathroom breaks, or an unforseen emergency is unacceptable and is grounds for exclusion from future Spring Art Tours.
Credit Card acceptance is highly recommended but is not required.
Artist must demonstrate and/or describe his/her creative process for visitors during the Tour.
Pick up and return of Tour materials (brochures, signs, etc.) is the artist's own responsibility.
Artists are responsible for their own insurance. The MHAAA and grant providing organizations will not be responsible for damage, loss or injury. Your signature on the application will signify that you and your studio location are insured.
Each artist must use the standardized guest list provided during the Tour for purposes of future grant writing and promotion. This must be given to the Coordinator within 1 week of the event.
Artists must respond to all Tour Coordinator requests as required.
Volunteering for MHAAA is required. This means as little as 1-3 hours annually, but additional help is always appreciated.
Relish the ride!
Connect the dots on our map and artist locations list (coming soon) to create your own unique Spring Art Tour