June 4-6, 2021 – Daily 10-5 – Mt. Horeb, New Glarus, Blanchardville, Barneveld, Black Earth, Mazomanie
Acrylics
Landscapes, flora, abstracts- the cohesive thread throughout my acrylic paintings on canvas is a love of nature. My figurative paintings frequently have an impressionist quality with organic shapes and splashes of color as I interpret my experiences, travels, and my imagination. I typically begin a new work with broad gestures of paint that are often applied with a palette knife. I love texture and the knife application adds to that element. Fine details in the composition are added with brushwork. Focus on the eye movement in the composition is important to me. As I build layer upon layer, I hope the viewers will feel compelled to discover a visual connection to the forms, colors and discovery of repetitive patterns.
Light is a key component in my work and I have been working with an under layer of gold leaf in many of my paintings for a few years. I am intrigued with the way the light is reflected throughout the day with the metallic layer.
My subject matter is often landscape inspired from my gardening, hiking and travel experiences. My husband and I recently downsized from our large nationally recognized garden and home in Middleton to a smaller space in the Madison area but I still have a home studio. This year I will be showcasing with other artists in a lovely barn at Rimrock Farms between Mount Horeb and Black Earth for the MHAAA 2021 Spring Art Tour.
I participate in about 10-12 shows each year, ranging from art fairs, group shows and solo exhibitions. Since retiring from teaching art in 2011, painting is my fulltime occupation. Currently, represented by Woodland Gallery in Stoughton, WI and Décor in Madison, WI, I have work in corporate and private collections in the United States and abroad, including American Girl, Asperius Hospital, Epic Systems Corporation, Northwestern Mutual Insurance, Sauk Prairie Healthcare Clinic and others.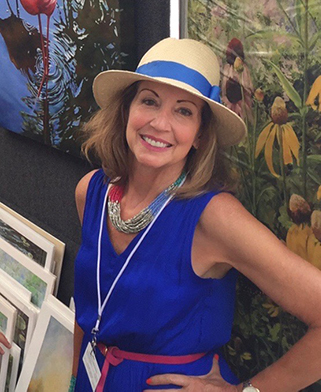 Spring Art Tour Demonstration
Viewers will be able to see some current works in progress. New acrylic paintings will be for sale, as well as giclee` prints and notecards. After a year of Covid-19 and all 2020 shows cancelled, I am excited to share new works with the public and see reactions to the ideas I have spent months developing.