June 4-6, 2021 – Daily 10-5 – Mt Horeb, New Glarus, Blanchardville, Barneveld, Black Earth, Mazomanie
#4 on the Tour Map

This studio WILL be open for the Spring Art Tour
Vandehoney (1st year on Tour)
4335 County Rd JJ, Black Earth, WI 53515
(608) 338-3106 | judy@vandehoney.com
This artist accepts credit cards
Access: My art studio and gallery are located on the well-traveled and maintained County Road JJ in the Town of Vermont. In the garden yard, there will be outdoor gallery tents for the art tour weekend. The main permanent gallery may also be available to visitors and is located immediately upon entering the residence front door. Ample parking is available in the driveway and on County Road JJ.
See more of Robb's work at Judy Robb
Oils
Landscapes, woodlands, fauna, flora, people past and present and in dreams, I create, paint and make things on a whim or an idea I have pondered. I am and always will be a life-time seeker of curiosities.
As a North American artist my work is representative of my daily encounters as an earth appreciator living in Wisconsin's Driftless Region and represents the things that inspire and convey emotion for any given day.
Prior to painting and early in my professional career, I studied photographic arts in Chicago working with influential photographers learning key studio techniques related to lighting, film, print and portraiture. My love of painting grew as I began painting large canvas backdrops for portraiture. Expanding beyond the confines of the studio, I evolved my work to the field where I became enthralled with the compendium of people's history and stories. Photography eventually evolved to painting and new forms of expression.
I have worked extensively with world-renowned museums and organizations as a creative director and technologist, traveling the world. I now make my home and work as a professional artist in beautiful Wisconsin.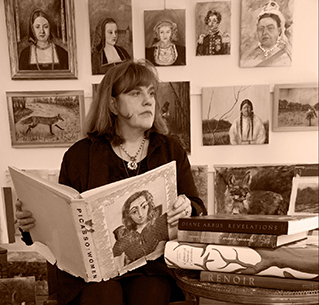 Spring Art Tour Demonstration
My creative process demonstrations during the Spring Art Tour weekend will be conducted outdoors via a mashup of portraiture, landscape and still life painting.
Guests at my studio who make a purchase will be entered to win an archival Giclée print.