June 4-6, 2021 – Daily 10-5 – Mt Horeb, New Glarus, Blanchardville, Barneveld, Black Earth, Mazomanie
#10 on the Tour Map

This studio WILL be open for the Spring Art Tour

aistheta | Hoverfly Studio (9th year on Tour)
9404 County Road A, Mount Horeb, WI 53572
(608) 577-9797 | jul@creative-zoo.com
This artist accepts credit cards
Access: Will be setting up and demonstrating in garage for this tour. Driveway is gravel and flat. In case of rain visitors will be asked to enter through the utility door around the back of the garage. The walk around the garage is grassy and level with 2 steps into garage. Visitors are welcome to walk around the prairie. Terrain around the prairie is hilly.
See more of Raasch's work at aistheta, Hoverfly Studio
Jewelry & Photography
As a metalsmith I enjoy working with copper, sterling silver, and sometimes brass. Much of my jewelry is created using a technique know as fold-forming. It is a technique in which the metal is annealed (heated) repeatedly while folding, unfolding, forging, and forming the metal. Other pieces are created through the beauty of etching copper and brass. Stones and beads, including hand made metal and beaded chains are added. I am continuously growing, experimenting, and incorporating new materials and new techniques when making pieces of jewelry.
Whether it's working with copper sheet, sterling silver, vintage jewelry, license plates, or other salvage material, each piece of jewelry I create is a small piece of art. My jewelry is as diverse and individual as people are. The pieces I make are meant to be worn and enjoyed.
Additionally I am an experienced photographer. My photographs capture the world around me… from sunrise to sunset and beyond. My work is driven by light. I am an observer of nature, color and how light plays in the environment. It silhouettes, highlights and most importantly brings out color where it was once hidden by darkness. I like to play with light.
I study and observe nature and enjoy looking closely. To take it apart and look at individual items in nature. To get down on the ground and look at things from a different angle. To find the best perspective to see how the light interacts… from above, below or at eye level? I move around the subject to see the best in my subject matter.
I'm always trying to push my vision and can often be seen toting my camera wherever I go, always ready when the next photographic opportunity or subject presents itself.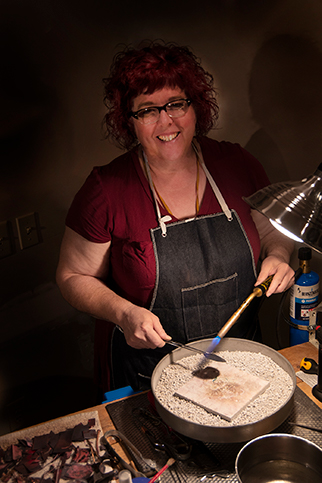 Spring Art Tour Demonstration
Jewelry – I will demonstrate fold-forming techniques and talk about the processes I use when designing and build a piece of jewelry.
Photography – I will have my photographs on display and will tell the stories behind how I capture my images.