June 4-6, 2021 – Daily 10-5 – Mt. Horeb, New Glarus, Blanchardville, Barneveld, Black Earth, Mazomanie
Pamela Grabber
Oils, Acrylics, and Watercolors
Oils, Watercolor, Acrylic
When I am painting in oils, watercolors, and acrylics, I enjoy the challenge each medium presents. Engaging the challenge requires an intensity of focus that I find peaceful. Outdoor painting is an immersion of the senses as well as a race with time to capture the light. Often I'm overwhelmed, but I'm smitten so I stay curious and go for it!
I employ several approaches. In acrylics, I build layers of opaque color. In watercolor and oils, I layer areas of transparent color. For my still life paintings, I use a technique called "grisaille", which is French for "gray painting". First, I paint the entire image in black, white, and gray. Then, I layer thin glazes of color one at a time, allowing several weeks of drying time between layers, until I reach the desired effect. Some of these paintings can take months to complete! My college degree is a BFA in Printmaking. It could be said that I paint like a printmaker, since these techniques of layering one color at a time are much like the process of painting.
"Relax, behold the beauty in Creation. Enjoy this peaceful moment. Contemplate the light." This is the meaning of my paintings!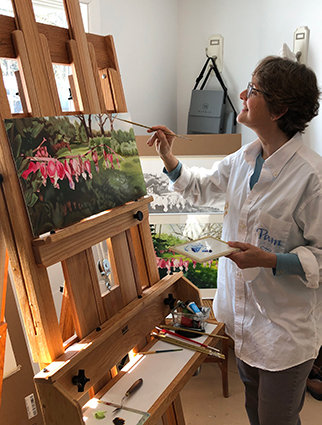 Spring Art Tour Demonstration
I will have a plein air painting demonstration on location in my yard. I will also display a grisaille painting in several phases in order to explain the technique.