Brenda Kraemer & Sand Hill Fiber on the 2021 Spring Art Tour
Please welcome Brenda Kraemer (and Sand Hill Fiber) to her first Spring Art Tour!
Kraemer will be demo-ing fiber art being made on antique machines: "Come see socks being made on an antique circular sock machine and rug and scarf weaving on antique looms. I will demonstrate various things throughout the day and when my looms are empty, I will demonstrate loading the looms or hand spinning roving into yarn."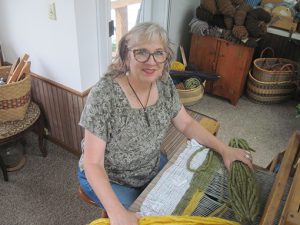 Some of Kraemer's beautiful hand-dyed wool:
See Brenda Kraemer's work
during this year's Spring Art Tour, June 4-6. Meanwhile, see a preview, get tour information and more at her Spring Art Tour Artist page!